Griff Rhys Jones joins anniversary reading of Arthur Ransome book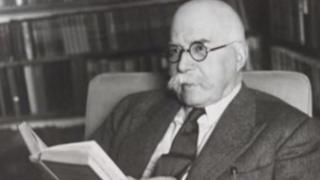 Well-known names will read an Arthur Ransome sailing novel in one go at the setting where it was written 80 years ago.
The eight-hour public reading of We Didn't Mean To Go To Sea takes place at Pin Mill, near Ipswich, on 21 October.
The book is the seventh in the author's Swallows & Amazons series of children's sailing stories.
Comedian and actor Griff Rhys Jones, who lives nearby, said he was "hugely looking forward" to taking part.
It takes place at Pin Mill Sailing Club, at Chelmondiston on the River Orwell estuary.
'Proven' spy
Ransome was a member of the club when he penned the book in 1937. This year also marks the 50th anniversary of the author's death.
Jones will be joined by former BBC Radio 4 broadcaster Libby Purves, MBE and author Christina Hardyment. Organisers are seeking more volunteers to read passages.
The novel tells the tale of three youngsters who accidently sail out to sea in The Goblin from Pin Mill and end up in The Netherlands.
As a boy, Jones said he used visit Hamford Water in Essex, which was the setting for another Ransome title, The Secret Water, and he is intrigued by his role working for the British secret service in Russia.
"Whether he was a double agent is still a mystery. That he was a spy is proven. All great adventure stuff. In a beautiful bit of tidal countryside," he said.
When Ransome lived in the area, he owned the Nancy Blackett yacht, which was the inspiration for the fictional boat.
Reading organiser Peter Willis, of The Nancy Blackett Trust which has restored and sails the vessel locally, said it was "very important" to celebrate the Pin Mill connections.
The reading, starting at 09:00 BST, will conclude a season of Ransome activities, which included a Jamboree in the spring.