Suffolk County Council considers travellers site sale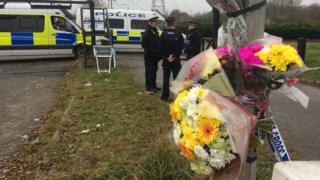 A council is considering selling a travellers site where two people were fatally stabbed as it says it costs too much to run.
West Meadows, near Ipswich, is owned by Suffolk County Council and the authority said it spent £1.5m in the past 10 years on the site.
A report said selling could impact the 100 residents as the "intentions of any purchaser are unknown".
But it also said violence on the site had affected the council's reputation.
In papers for next week's cabinet meeting, officers said the West Meadows site placed significant demand on capital reserves to cover repairs and damage.
"Within the last 18 months this has equated to approximately £390,000 and it is estimated to be close to £1.5m over the last 10 years," they said.
They added the site had also failed to generate enough income to cover the running costs which included an annual loan repayment of £29,000.
"This loan was used to pay for previous capital expenses related to the site. The amount outstanding on the loan is £537,372."
Nelson Smith, 18, was jailed in June for stabbing two men to death at the site in December.
As well as the two deaths, in May this year four men from the site were jailed after a pregnant horse was subjected to a "sickening and brutal slaughter".
Suffolk County Council said it had no statutory obligation to run the site.
"It's costing the taxpayers in Suffolk a lot of money," said Conservative county councillor Tony Goldson.
"We are not mandated to do it. We are trying to help boroughs and districts out but this is one site we cannot manage and we just can't do it."
Cabinet members are being recommended the site be sold with a covenant to "retain its current use as a gypsy and traveller site."
A meeting with residents at West Meadows is planned after the cabinet meeting. But Joseph Jones, for the Gypsy Council, said residents should be given the option to buy their pitches.
"Same as the right to buy for people who live in council houses," he said. "It would be the same as any other private estate that's owned by the residents."