Firm admits health and safety breaches following Lidgate death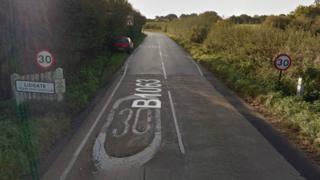 A construction company has admitted health and safety breaches over the death of a road worker.
Aidan Gallagher, 37, is thought to have been hit by a car while working on the B1063 at Lidgate near Newmarket on 13 May 2014 and died later that day.
Sean Hegarty Ltd pleaded guilty at Ipswich Crown Court to failing to discharge their duties towards Mr Gallagher.
The Ipswich-based company is due to be sentenced at the court on 15 December.
Police had been called by the ambulance service, who reported a man had collapsed on the B1063 close to where roadworks were taking place.
Mr Gallagher died as he was being taken by ambulance to Addenbrooke's Hospital in Cambridge.
A post-mortem examination revealed Aidan Gallagher had internal injuries consistent with an impact.