Fynn Valley golfer died days after being struck by lightning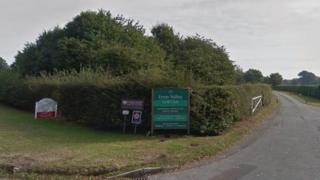 A golfer died four days after being struck by lightning while sheltering under a tree during a thunder storm, an inquest heard.
Philip Shard, 60, from Rushmere, had been playing at Fynn Valley Golf Course in Suffolk in May when it happened.
Friend Brian Goldsmith described seeing a flash of lightning before finding Mr Shard unconscious under a tree.
A verdict of accidental death due to lightning strike was recorded by Assistant Coroner Dr Dan Sharpstone.
Mr Goldsmith's statement, read out at the hearing in Ipswich, described how the weather had deteriorated on 27 May.
Looked for shelter
The inquest heard they had been preparing to play on to the fifth green from opposite sides of the fairway when they had to stop and put on waterproofs.
Mr Goldsmith looked around but was unable to see his friend, although his bag and trolley were close to the green.
He walked around looking for Mr Shard and found him lying under a tree, where he assumed he had gone looking for shelter.
He ran about 150m (165yds) to a caravan owned by the golf club, where he asked someone to call for an ambulance, the hearing heard.
A couple of people went back with him to where Mr Shard lay and a defibrillator was used and CPR carried out until paramedics arrived.
Mr Shard died in hospital four days later, with his family by his side.