Ex-Suffolk detective's jail term for coaching suspect increased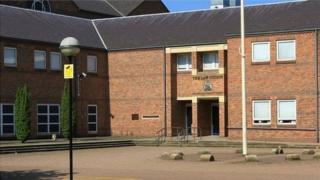 A former detective who was jailed for 28 days after he "coached" a drugs suspect has had his sentence increased to 11 months.
Ex-Suffolk Police officer David Phelps, 42, of Fleetdyke Drive, Lowestoft, had been convicted in June of intending to pervert the course of justice.
But Court of Appeal judges found the sentence was "unduly lenient".
The court heard he tried to tell a suspect what to say after being held in connection with a drugs offence.
Phelps was ordered to surrender to custody in Great Yarmouth later to begin serving his new sentence.
'Simple possession'
His offence involved "coaching" a suspect during an informal interview at his family home, said judge Lord Justice Simon.
During the conversation, Phelps encouraged the suspect to admit "simple possession" of class A drugs.
He suggested to the man ways in which he could shape his account to fit that charge, the judges heard.
He indicated to the suspect that, if he admitted simple possession, the matter would be dealt with by a caution.
There was no corrupt motive behind Phelps' offence and the court heard "he was simply trying to save time".
But when senior detectives looked more deeply into the case they realised the drug-dealing was on a far more serious scale.
'Gross misconduct'
The suspect and an accomplice were ultimately convicted of possessing drugs with intent, and received five-year sentences.
Lord Justice Simon, sitting with Mr Justice Holgate and Sir Kenneth Parker, noted Phelps's previous "excellent" character.
His prosecution at Norwich Crown Court had taken a "catastrophic" toll, the appeal court heard, blighting his family life and terminating his police career.
Phelps, who was based in Lowestoft, has since been dismissed from the force for "gross misconduct".