Corrie Mckeague: Missing airman's mum retraces his final steps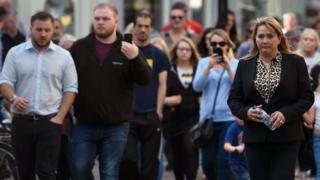 The mother of a missing airman has led a large group of supporters along her son's final known steps on the anniversary of his disappearance.
Corrie Mckeague has not been seen since 24 September 2016 following a night out in Bury St Edmunds.
Suffolk Police believe he was taken to a landfill site after falling asleep in a bin, but have not found his body.
More than 100 people joined his family on a 90-minute walk around the haunts where the airman was last seen on CCTV.
Ms Urquhart described the search for her son, who was aged 23 when he went missing, as "like grieving".
Corrie Mckeague: The mystery of the missing airman
She said she wanted to do "something positive" to assist police, after the 20-week trawl of rubbish at the landfill site in Milton, Cambridgeshire, ended.
Mr Mckeague, from Dunfermline, Fife, was first reported missing when he failed to turn up at RAF Honington on Monday, 26 September 2016.
Ms Urquhart, along with her two other sons, Makeyan and Darroch, and their uncle Tony Wringe, began the walk at Langton Place, near So Bar, where Corrie started his night out.
The procession of well-wishers, supporters, media and police then carried on to the Corn Exchange Wetherspoon's and Flex Bar venues, the Hughes Electrical doorway where he fell asleep, and the Mama Mia pizzeria.
It concluded in the Horseshoe area, where the final CCTV footage of him was recorded.
"I don't know if we will ever find out what happened," Ms Urquhart said, "but I am determined to find Corrie.
"We may find him but not ever know how - if he's dead - how he died. But my determination is to find Corrie.
"It's like grieving. It's my son. I am never, ever, ever going to stop trying to look for him. I know that the police investigation will have to stop at some point but we're nowhere close to that just yet.
"My determination as far as my children go is limitless. It will never stop."
A special police pod has been in position in Bury St Edmunds during the weekend, in a bid to encourage witnesses to come forward.
Suffolk Police said the search for the airman remained "an active investigation".
In March, specialist teams embarked on a search of a landfill site in Milton, Cambridgeshire, where the contents of the bins in the Horseshoe area would have ended up.
Police later revealed a bin lorry, seized shortly after the gunner vanished, was carrying a heavier load than first thought.
The landfill search was called off in July.