Drug gangs create 'perfect storm' in Ipswich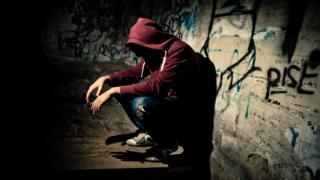 Drug-related gang violence in a Suffolk town has created a "perfect storm" involving children as young as 12, says a report.
The University of Suffolk's study found Ipswich had been targeted by London drug gangs.
"Violence, threats and coercion were used routinely by these groups to exert control over vulnerable children and young people," the report said.
Suffolk Police said children were acting as "runners" to deliver drugs.
The report, commissioned by the county council, also said children and young people reported missing in London had been found at Suffolk addresses known to be used for Class A drug dealing.
It said Jubilee Park, a deprived area of Ipswich, had been targeted by the gangs with addicts' homes being taken over as bases for drug dealers.
Intelligence from the police also suggested the gangs were storing weapons at dealing locations and arming runners with knives.
"This kind of violence was evident in other parts of Suffolk where the illicit drug market was saturated and competition between dealers was fierce," the report said.
One of the authors of the report, Paul Andell, said the rise in drug gang violence could be due to the drop in police numbers and cuts to public services.
Investing in youngsters
"There's a perception that they (criminals) will not be dealt with as robustly (by local police)," he said. "All of these factors create a perfect storm."
Junior Smart, a former Ipswich gang member, who is now a youth worker with the St Giles Trust, said all the agencies involved with the prevention of crime and young people needed to communicate better.
"The agencies aren't talking to each other - in some respects the agencies are more territorial than the gangs are," he said.
Suffolk's Assistant Chief Constable Rachel Kearton said the police and crime commissioner had put a huge amount of money to help young people stay out of gangs, "six-figure numbers that allow these kids to actually have a better chance in life".
"We're investing in the young people for their future to find ways for them to live their lives rather than getting into the drugs world."