RAF Mildenhall: USAF set up 'food pantry' for personnel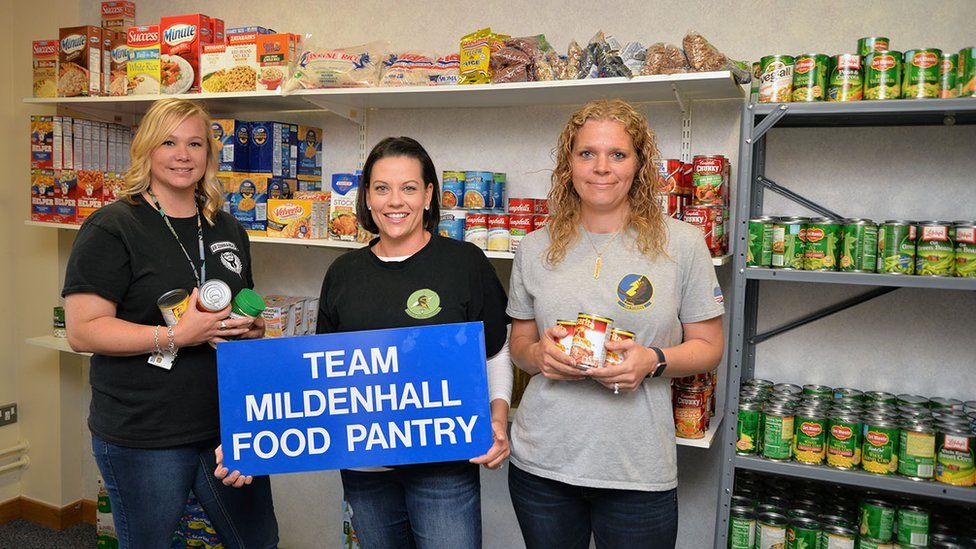 The United States Air Force has introduced its first free "food pantry" for service personnel in the UK.
Seasonal collections have been received by about 225 people at RAF bases in Mildenhall, Lakenheath and Feltwell.
Now a new service is being set up at RAF Mildenhall, stocked by donations and made available to all at the bases.
Master Sgt Michael Jackson said moving to England could be a "little expensive" and helping families enables staff to "focus on the mission".
"We have a lot of great people that recognise that moving to England, and moving overseas, can be a little expensive, and to help airmen and families during this transition, to have them focus on the mission, this will help alleviate some of that burden," said Mr Jackson.
Sarrah Hall, one of the co-ordinators, said the items at the food bank were there for anyone who is in a bad financial situation.
"If someone is in need, they go to their first sergeant and tell them they're in need, and their first sergeant takes them shopping for free."
The Trussell Trust, which runs more than 420 food banks across the UK, said: "We always welcome initiatives by communities and groups coming together to support each other.
"There are three food banks in The Trussell Trust's network in Suffolk, all of which are run by the community for the community to ensure no one in the area faces going hungry."
The trust has food banks in Suffolk in Haverhill, Lowestoft and Eye.
Related Internet Links
The BBC is not responsible for the content of external sites.