Suffolk County Council leader backs 20% allowance rise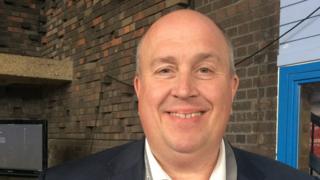 A council leader in line for a 20% rise in his allowances says he feels it is "fair and reasonable" to accept it.
The independent allowances review at Conservative-controlled Suffolk County Council will be decided next week.
It recommends that leader Colin Noble's allowance increases from about £25,000 to just over £30,000.
Sandra Gage, leader of the Labour group on the council, said she was concerned about the "big difference" between senior and "basic" councillors.
More on this and other Suffolk stories
The review panel recommends a £2,000 rise for the deputy leader to £20,000 per year and an extra £2,000 for other cabinet members to about £17,000.
Mr Noble said the review's proposals would be "cost neutral to the council taxpayer" and the allowance increase for himself and other cabinet members will be offset by reductions elsewhere, including cutting breakfast, lunch and tea allowances for all councillors.
"They [the review panel] feel the cabinet, the leader and deputy leader should perhaps have a little bit more than the backbenchers.
"I think it is fair and reasonable to accept their conclusion."
Ms Gage said: "There is a big difference between these senior positions and what sort of allowances the basic councillors who don't have these positions get."
The allowance review will be decided at a full council meeting on 20 July.