Delphi Diesel Systems: Up to 520 Sudbury jobs under threat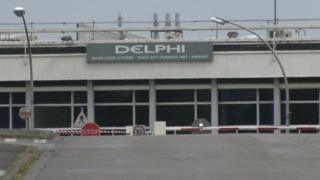 Up to 520 job losses are at risk after an engineering firm said it was looking at the "long-term future" of one of its plants.
Workers at Delphi Diesel Systems in Sudbury have been told there will be a formal consultation on its future.
A Delphi spokesman said the site was struggling to be competitive in a "highly-demanding global market".
The Unite union's Neal Evans said: "We believe the site is profitable and continues to be viable."
US-owned Delphi makes diesel fuel injectors and filters for commercial vehicles at the site.
In 2015, it cut 176 jobs in Sudbury and moved the work to Romania.
For more Suffolk stories, visit out BBC Local Live page
The company spokesman said no decision had been made about the south Suffolk site yet.
He said: "There are several economic and business factors which have led Delphi to a review of their commercial vehicles diesel manufacturing strategy.
"Delphi is sensitive to the potential implications of this consultation and will work closely with worker representatives in order to reach a timely decision and to minimise any social impact.
"Despite the outstanding efforts of all our Sudbury colleagues, it has been impossible to raise the competitiveness of the site to a level where it can win new business."
'Poor decisions'
Mr Evans said the attempt to move work to Romania had not been a success due to difficulties in recruiting skilled staff there.
"The view of the union is that poor business decisions were made and now we have over 500 jobs in jeopardy," he said.
"The site is competitive and that will be borne out through the consultation.
"What we'll be doing is calling on the employer to think more strategically and put a commitment into Sudbury."
Unite said negotiations were due to begin next week.