Dog rescued from car after owner drops keys down drain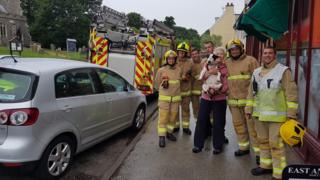 A dog had to be rescued from a car by firefighters after its owner dropped her keys down a drain and trapped the animal inside.
Ruth Purchase's English bull terrier, Florence ended up stuck in the car in Yoxford, Suffolk.
A fire crew had to lift the car up and move it off the drain it was parked over to retrieve the keys.
As reported in the East Anglian Daily Times, crew commander Daniel Jay said it was a "happy ending".
Fire crews were at the scene from 19:30 to 20:15 BST on Monday.