Ipswich crowds cheer bird of prey rescue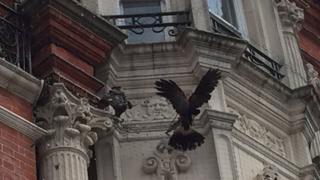 Crowds gathered to cheer firefighters attempting to rescue a bird of prey trapped in the centre of Ipswich.
It became tangled in anti-pigeon netting on the Lloyds Bank building in Cornhill earlier.
Three fire engines were sent and a firefighter on an aerial platform managed to help set the bird free.
The bird, which had been feasting on a pigeon also trapped in the nets, then flew across the square to watch the drama from the safety of another perch.
Dozens of shoppers had gathered to watch the spectacle, and Suffolk Fire and Rescue Service had to set up a cordon as they worked to free the feathered fellow.
As the bird flapped to freedom, people clapped and cheered from the sidelines.