St Edmundsbury and Forest Heath councils consider merger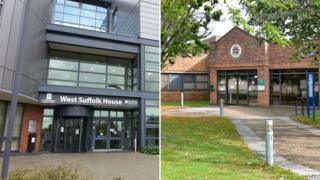 Two of Suffolk's councils have revealed plans to merge to create one large local authority.
St Edmundsbury and Forest Heath have already been sharing services and a chief executive, saving £4m a year.
Leaders of both authorities now want to create one single body for west Suffolk, describing it as a "golden opportunity".
Suffolk Coastal and Waveney councils signed off a merger to become East Suffolk District Council in January.
LIVE: Updates on this story and other Suffolk news
St Edmundsbury and Forest Heath have shared a chief executive since 2011 and have pooled office staff and some services.
For the full merger to go ahead, the cabinet of both councils will first have to agree to the plans. They would then need to be agreed by each full council.
St Edmundsbury's leader, John Griffiths, described it as a "golden opportunity" to "meet future challenges, drive growth and prosperity while continuing to deliver high quality services".
James Waters, leader of Forest Heath, added: "Residents do not care what logo is on their bin but that we continue to empty them in the most cost effective way.
"At the same time they want us to fight their corner nationally to make sure we get the best deal from government."
The plans are set to go before both cabinets in the coming weeks.