Ipswich gunshots and arson attack 'are linked'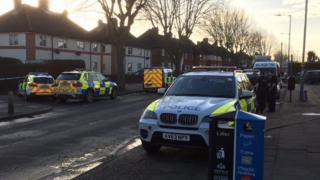 A gunshot was fired into a family home in Ipswich after an arson attack and another firearms incident which police believe are all linked.
The shot was fired at the property on Nacton Crescent at 01:35 GMT.
The shooting happened after what police described as a "firearms incident" on Fuchsia Lane at on Monday evening and a fire at a flat on Dandalan Close 30 minutes later.
Three people have been arrested and police remain on Nacton Crescent.
LIVE: Updates on this story and other Suffolk news
Suffolk Police said no-one was hurt and they believe those involved know each other.
Insp Phil Enderby said: "We do believe that the suspects and the victims in these incidents all know each other and that there is no threat to the general public."
Furniture set alight
The three people in custody were arrested after the Fuchsia Lane incident.
Police stopped a Mini Cooper at 20:35 GMT at Alnesbourn Crescent and a handgun was recovered.
The vehicle has been seized by police.
Police said accelerant was thrown through a window and furniture was set alight at the flat at Dandalan Close.
They said the family in the property at Nacton Crescent were safe.