Pontins Pakefield death: Tributes paid to man who died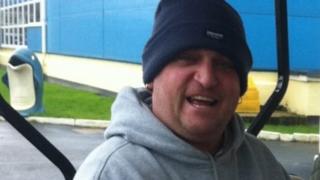 Tributes have been paid to a father-of-three with a "heart of gold" who died after being arrested at a holiday camp.
Paul Gladwell, 38, died on Thursday in hospital after reports of a fight at Pontins in Pakefield on Tuesday.
He had been on his way to the police investigation centre when officers realised he needed medical treatment.
His friends and neighbours from his Colchester home describe the death of their "good friend" as a "terrible shock".
Police had been called to the Lowestoft park by security to investigate at 23:45 GMT. The Independent Police Complaints Commission is now investigating the case.
Read this and more stories from Suffolk
Speaking to BBC Essex, his friend Jane Harvey said: "It's come as a terrible shock...As soon as I was told about his death I completely lost it, I got hysterical."
"He's a very good friend to me as well as a very good neighbour. He always said hello to me, and just last week he said if I wanted help with anything.
"He'd got a heart of gold underneath it, believe you me, that lad."
Another neighbour, Denise Cutting described him as a "sociable" man.
She said: "He would always pass the time of day with you, never actually saw him looking miserable."
Meanwhile Mr Gladwell's family say he had Asperger Syndrome and claim his death was avoidable.
His family have made complaints on social media about how an alleged confrontation and its aftermath was handled by Pontins and Suffolk Police.
Suffolk Police and Pontins have not issued any comment or statements.