Kelsale Hall fire: Manor house lost in large blaze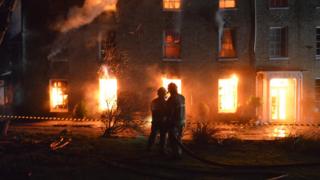 A Grade II-listed building has been ravaged by a fire.
Crews were called to Kelsale Hall, a 19th Century manor house near Saxmundham, Suffolk, at 17:45 GMT on Wednesday.
It is thought the blaze started in a tumble dryer and spread through the house, destroying most of the building.
The property was occupied at the time but those inside managed to escape and there were no reports of any injuries, the fire service said.
Thirty-five response vehicles and 80 firefighters were called out to deal with the fire at its height.
LIVE: Updates on this story and other Suffolk news
Ian Bowell from Suffolk Fire and Rescue said: "Whilst I say it was a tumble dryer, I think we should allow the investigation to completely exhaust all other options.
"But early indications yes, it was a tumble dryer seen to be alight.
"It's certainly not being treated as a suspicious fire but it is early stages of the investigation."
The fire started on the ground floor of the house.
The fire service said, due to the construction of the building, the fire spread through the voids into the basement and up two storeys to the roof.
Firefighters used water from a nearby pond and a hydrant supply on the A12 to tackle the flames.
"It was totally unsafe to go in there," Mr Bowell added.
"It's a sad loss and we haven't been able to save as much as we would like. But given the circumstances, we've done our best."