Man arrested after three-day stand-off in Crowfield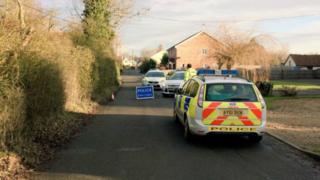 A man who sealed himself inside a house has been arrested after a three-day stand-off with police.
Police were first called to Crowfield, Suffolk, on 23:15 GMT on Monday amid concerns for the welfare of a man in a property there.
The man, 42, came out of the house on Stone Street at 15:30 on Wednesday.
Suffolk Police said he had been arrested on suspicion of making threats and illegal possession of a firearm.
A police spokesman said officers had recovered at least one firearm.
He said searches of the property were continuing.
Stone Street was expected to reopen at 17:00.