Latitude Festival may increase numbers by almost 5,000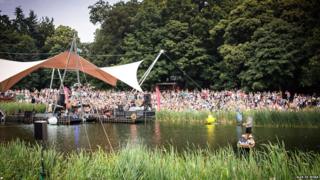 A "genteel" festival labelled the most middle class in Britain is hoping to boost its capacity by 5,000.
The organiser of the Latitude Festival near Southwold wants to increase numbers to a total of 39,999.
Festival Republic has applied to the local council for permission to increase capacity at the Henham Park venue.
The popular Suffolk event is in its 13th year and when it began about 10,000 attended.
Speaking in 2006, Melvin Benn said he was launching Latitude as a festival with a "genteel, less manic feel".
The three-day festival, which includes comedy, theatre and poetry as well as major music acts, has become known as a "middle class" festival.
The public have until the beginning of February to comment on the application, which will be looked at by Suffolk Coastal and Waveney Council's licensing department.
Acts that have appeared over the years include Franz Ferdinand, Sigur Ros and Interpol as headliners. Tom Jones also appeared in 2010.