Stolen Ford Transit van driven wrong way down A14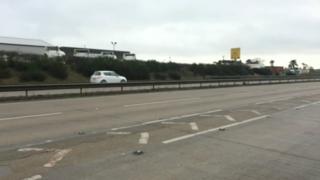 A stolen van was driven the wrong way down the A14 before crashing, prompting a police search for the driver.
Suffolk Police said the Ford Transit was stolen from a property in The Street, Nacton, at about 05:50 GMT.
It was chased by police and crashed into the central reservation to avoid two oncoming lorries. The driver ran off.
The theft happened 20 minutes after a car-jacking incident in nearby Waldringfield.
In the earlier incident, a red Suzuki Alto was stolen as the owner approached his car.
The vehicle was found at the Nacton property, rammed into a set of gates and set alight.
Searches have taken place to find the driver but he has not been found.
Police said a 4x4 believed to have been involved in the Waldringfield incident was located by officers off the A14 at Seven Hills at 08:15 GMT.
The Suzuki Alto owner works for newsagent Bob Chamberlin and was out delivering papers when he was stopped by two men.
Mr Chamberlin said: "He was left stranded but managed to flag down a passing milkman who called the police.
"He's been doing this for more than 10 years now without any problems whatsoever so it's quite a shock to the system.
"He was very subdued and quiet and obviously very shaken up."