Boost of £100,000 for plan to save Shotley Pier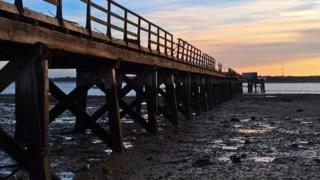 A fundraising campaign to save a 122-year-old Victorian pier has been boosted with an offer of £100,000 of match funding.
The 600ft (180m) Shotley Railway Pier at Shotley Gate, Suffolk, was built in 1894 by the Marquis of Bristol.
It was once used to carry mail as well as munitions and sailors to Shotley Gate's HMS Ganges naval training base.
Shotley Heritage is aiming to raise £300,000 to restore the pier, which has been closed for several years.
Funding group Power to Change Community Shares Booster Programme (PCCSBP) said it plans to match up to £100,000 raised through shares bought by people eager to own part of the pier.
It has already handed over a £5,000 grant to get the project off the ground.
Sally Chicken, chairman of Shotley Heritage, said the grant "will help us provide a place for people to enjoy the outdoors in a stunning location, improve the environment, create employment and attract more visitors".
Mrs Chicken said although the "beautiful" pier was different to others in Suffolk because it was built as a working pier, she'd also heard of people who had met their husbands and wives there.
She said: "We have heard from so many people who say they fell in love on the pier. It is a romantic place."
The pier is 10ft (3m) wide, but it has a 40ft (12m)-wide platform at the end which has two fishermen's huts on it.
It was used by the HMS Ganges training ship, moored nearby, from 1905 to the 1970s. The HMS Ganges naval base, which sprang up in Shotley Gate, was occupied by the Royal Navy until 1976.