Corrie Mckeague: Woman's shock as Facebook post goes viral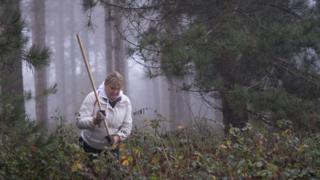 A woman who published a compassionate Facebook post about a mother searching for her missing son has said she "never imagined" it would go viral.
Pippa Jones, from Wiltshire, took to Facebook after she saw an image of missing airman Corrie Mckeague's mother, Nicola Urquhart, searching woodland in Suffolk.
More than 268,000 people from around the world have shared her post.
Mr Mckeague disappeared after a night out in Bury St Edmunds on 24 September.
The 23-year-old was separated from friends and was last spotted on CCTV at about 03:30 BST.
His mother organised a search of a forest near RAF Honington, where he is based, on Saturday.
After seeing the photo, Ms Jones, 46, posted: "This mum is searching forest undergrowth for her child. Her baby boy.
"It could be one of us parents looking for our child instead...this photo could be you."
Ms Jones, who lives in Amesbury, Wiltshire, said after seeing the photo of Mrs Urquhart, it "just set me off" and "I wanted to give Nicola the biggest hug".
Her post was shared by those living across the UK and in countries including Australia, France and Algeria.
"I never imagined it would go viral, I was absolutely gobsmacked," she said.
"I just wrote what I felt I saw in Nicola. Her pain is so tangible, you can't fail to feel moved by her."
She said everyone in the Find Corrie Facebook group is "determined to stick by the family" until Mr Mckeague is found.
Mrs Urquhart said Ms Jones' post was "heartbreaking".
Sixty volunteers took part in the search on Saturday which was coordinated by Suffolk Lowland Search and Rescue.