Soldier's widow wins MoD payout over faulty vehicle crash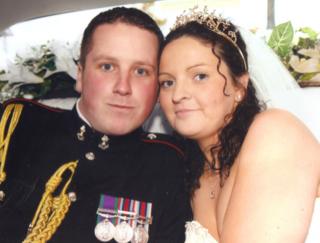 A widow will receive a payout of £775,000 from the Ministry of Defence (MoD) after her "dedicated soldier" husband died in a road crash involving a faulty military vehicle.
Lance Corporal Kevin Greenfield, 29, suffered fatal injuries in the crash on the A14 in Suffolk in March 2012.
The MoD admitted liability for the accident and has agreed to settle his family's claim.
An inquest held in December 2012 concluded his death was accidental.
L/Cpl Greenfield was the front seat passenger in the Land Rover when it suffered a tyre blowout on the eastbound carriageway of the A14 near Nacton, in Suffolk.
The High Court was told how the driver lost control and the vehicle ploughed into the central barrier, before coming to a stop across the outside lane.
It was "positioned precariously", and had no lights to alert oncoming traffic, the court heard.
L/Cpl Greenfield got out to help another passenger but was struck down when another motorist ploughed into the Land Rover, propelling it along the road.
He later died from his injuries.
A police report found the Land Rover's tyre burst because of earlier damage and that power was lost because the vehicle's batteries were not correctly secured.
'Dedicated soldier'
L/Cpl Greenfield served with 23 Engineer Regiment (Air Assault), based at Rock Barracks near Woodbridge. He had seen tours of Afghanistan, Kenya, Congo and Northern Ireland.
His widow Charlene, 31, of Houghton, Carlisle, sued the MoD, which admitted it was liable for failing to ensure the soldier's safety.
It agreed to settle the case on the first day of the High Court hearing.
In court documents, L/Cpl Greenfield was described as a "dedicated soldier" and a "loving and devoted father", to four sons.
They will all receive financial support from the settlement.