PDSA animal survival awards includes cat who lost leg in illegal trap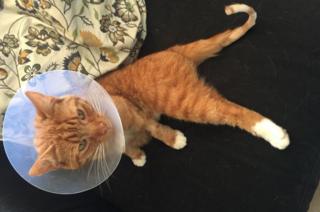 A cat who dragged himself home with a metal trap on his leg is among six animals shortlisted for a "pet survivor" award.
Ginger tom Arthur, from Suffolk, eventually gnawed through string on the illegal trap after being stuck for days.
The other "plucky pets" include a ferret who survived a dog attack and a Jack Russell burnt by a casserole.
The PDSA Pet Survivor 2016 will be decided by a public vote on 4 December.
For more stories about rescued pets, follow BBC England's Pinterest board
Arthur the cat had been missing for several days from his home in Bures near Sudbury.
"I was relieved when I heard him meowing early one morning, but my relief turned to horror when I found him half-way up the stairs dragging a rusty metal trap," owner Gemma Harris said.
"His claws were gone and his teeth were damaged."
His vet, who initially was not sure Arthur was strong enough for surgery, said he had "bounded back" from his "horrific injuries".
Jack Russell Buddy's appetite got the better of him when his desire for chicken casserole resulted in third-degree burns to 40% of his body.
The 13-year-old from East Molesey, Surrey, managed to pull a slow cooker full of boiling casserole off a worktop.
Owner Bethany Randall said he initially had to wear baby grows to protect his skin as it healed.
Darcy, a two-year-old cocker spaniel from Kellas, near Dundee, ended up with broken legs and internal injuries after jumping a wall and falling down a 60ft (18m) concrete dam.
Owner Wendy Lyon heard her pet "scream" as she fell.
She had to be rescued by the fire service but "still managed to nuzzle the fireman's cheek". Darcy is expected to recover fully and "continues to amaze" her vet.
Bodie, a Labrador-cross from Bracklesham Bay in West Sussex was attacked by another dog which left his "insides hanging out".
He was stitched up and needed further operations to repair damaged skin, but has started to recover.
"He still has to take things one step at a time," owner Natascha Relf said.
Dobby, a ferret from Stanley in County Durham was also attacked by a dog, which ruptured his intestines.
"He was at death's door," owner Jade Gardiner said. But, after major surgery Dobby is now recovering and has returned home to the cage he shares with his brother.
Hans, a Dutch rabbit from Richmond in North Yorkshire, was found abandoned with an infected head injury, believed to have been caused by a dog or fox.
He was taken in by Gwen Butler, who runs an animals charity, and recovered after surgery.
"I never give up on pets, however small," Ms Butler said.