Great Blakenham SnOasis 'will become a reality', says developer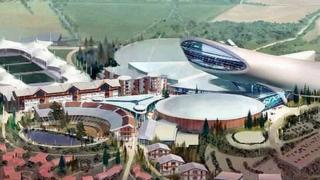 A £300m snow sports centre which has been in the pipeline for 15 years "will become a reality", the developer has said.
Detailed information on SnOasis at Great Blakenham, near Ipswich, has been lodged to safeguard outline planning consent which was granted in 2008.
Developer Godfrey Spanner blamed the delay in building on the recession and ecological matters including newts, badgers, bats and crayfish on the site.
He said he hopes it will open in 2020.
For more on this story and other Suffolk news
"It will become a reality," he said.
"If it's a pipe dream, it was a pipe dream 15 years ago.
"I wouldn't have followed it for the last 15 years and I wouldn't have spent everybody's money on it to get to where we are today.
"And I certainly wouldn't have spent the last three months and £2.5m on getting what the council needs."
Mr Spanner said £20m had already been spent on the project.
The complex is planned to be built at a former quarry site.
Outline planning permission would have lapsed if Mr Spanner's company, Onslow Suffolk Ltd, had not filed the papers to Mid Suffolk District Council before the end of October.
Once built, Mr Spanner said it would be home to 14 winter sports, the "world's largest" snow dome and the UK's first speed skate circuit.
He said winter Olympics teams would also base themselves there.
A spokesman for Mid Suffolk District Council said the additional information would need to be validated by planning officers before the application goes to its planning committee.