'X-rated' council error sends voters to hardcore porn site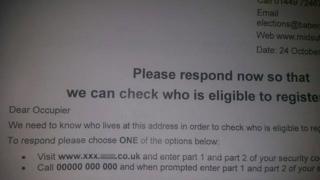 A letter sent to residents urging them to check their eligibility to vote directed them to a hardcore porn website.
The reminder was supposed to direct recipients to a Mid Suffolk District Council website, but the address provided sends users to explicit content.
A resident uncovered the error when he typed the address into his web browser.
The authority said the mistake was "embarrassing".
Read more on this story and other Suffolk news
The man who discovered the error, who did not wish to be named, notified BBC Radio Suffolk.
"Quite humorous from my perspective but might give some of your older listeners a bit of a shock," he said.
"I have informed them but I'm guessing a few have already been mailed out."
The council has apologised.
"It was not our intention to embarrass anybody in the district and the first thing I would like to say is to apologise to anybody who has received this letter," Senior Director Mike Evans said.
"We think about 80 documents were hand-delivered by canvassers in the wards of Claydon and Barham."