Highpoint prisoner sentenced for taking six staff hostage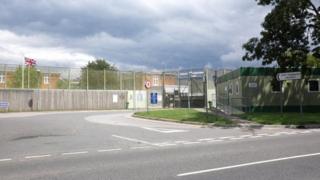 An inmate brandished a makeshift knife and took six prison staff hostage in a bid to be moved to another prison, a court has heard.
Lee Twyman, 28, believed he was no longer safe at HMP Highpoint in Suffolk when the stand-off occurred on 12 May in "an act of desperation".
The burglar made a weapon out of a plastic knife and razor blades.
He admitted one count of false imprisonment and was given a 16 month sentence at Ipswich Crown Court.
Twyman, who was serving an indeterminate sentence with a four-year minimum term for aggravated burglary, told his lifeline worker he was being threatened.
Prosecutor Michael Crimp told the court he either planned to steal officers' keys or take hostages "in a bid to be moved from the prison".
His lifeline worker said she would have to report his plans so he decided to act straight away, the court was told.
Twyman manoeuvred himself into a prison office and took the hostages, who included a mental health nurse, but a few minutes later agreed to release four of them.
When negotiators arrived he barricaded the office door with furniture and smashed things up in the room, the court was told.
Defending Twyman, Vanessa Halai said a psychiatric report found he "was suffering from a mixed personality disorder and would use violence and self harm to cope with frustration".
She said he was genuinely fearful for his own safety and did not want to use the knife he was holding.
His act was one of desperation, she told the court.
The two remaining hostages were freed after three hours.