Windmill garden ornament removed from puppy's stomach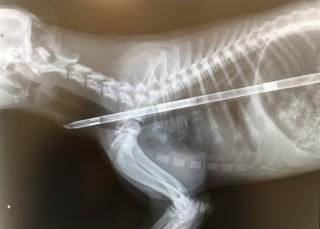 A four-month-old puppy needed surgery after it swallowed the metal pole from a garden "windmill" ornament.
The hapless Labrador pup attempted to eat the spinning foil trinket, leaving a 45cm (1.5ft) post stuck in his stomach.
Surgeon Ben Garland from Framlingham Vets safely removed the pole during a 45-minute operation.
"I've removed a lot of things from dogs' stomachs, but nothing quite as spectacular as this," he said.
More news at the BBC Suffolk Live page
The dog's owners knew something was not quite right when they found half the garden ornament in the puppy's kennel.
"They realised there was only one place the other half could be," Mr Garland said.
'A little embarrassed'
The puppy had tried to eat the entire metal stick, then when it became lodged in his stomach and oesophagus, he bit the end off, leaving it just showing in his throat behind his windpipe, Mr Garland said.
"He didn't seem in any pain when he was brought in," he said.
"Just a bit dribbly, and he looked a little embarrassed."
X-rays showed the full extent of the problem and after "thinking about it for a while" the team decided to make an incision in the puppy's neck and remove the pole.
Luckily it had not damaged any organs and the pup was able to return home two days later.
The surgery posted a photo of the X-ray on social media.
"Guess the foreign body removed from a dog today?" They wrote on Twitter, using the hashtag #dogseatweirdstuff.