Long Shop Museum in Leiston awarded lottery grant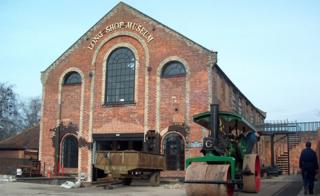 A factory that housed the first purpose-built flow assembly line has been awarded a £1.9m grant from the Heritage Lottery Fund (HLF).
The Long Shop in Leiston, Suffolk, was built to assemble portable steam engines 163 years ago and has largely survived in its original condition.
Now a museum, the factory was built as part of the Leiston Works, run by the Garrett family from 1778 to 1932.
They produced agricultural machinery and early steam engines.
The assembly line allowed for boilers on wheels to start at one end before having engine parts added as they moved from workstation to workstation.
After the age of steam, the industrial works, which employed more than 2,500 people at their height, made pioneering electric-powered vehicles and Britain's first diesel lorry, as well as hundreds of thousands of shell casings during the world wars.
The site was used until 1980 when it was rescued from demolition and was established as a museum.
Now the Long Shop Museum has secured £1.9m in initial support from the HLF towards a £2m project to restore the Victorian factory buildings, showcase collections and provide new facilities.
There will be a cafe, community hub and a youth shed where young people can learn basic engineering skills.
Anna Mercer, curator at the museum, said: "Repairing, restoring and renewing the Long Shop will unlock its unrealised potential as a unique and brilliant place which continues to generate interest, understanding and pride in our industrial and engineering heritage amongst people of all ages and from all walks of life."