Ipswich killer Steve Wright's father urges him to confess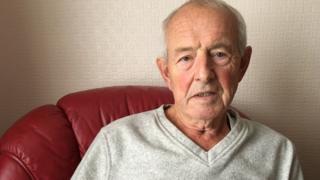 The father of a man who murdered five sex workers 10 years ago has called on his son to admit the killings.
Steve Wright is serving a whole life jail term for killing the women, who went missing from streets of Ipswich over a six-week period.
Tania Nicol, 19, was the first of the five to go missing, on 30 October 2006.
Wright's father, Conrad, 80, said admitting the murders was the "only thing" his son could do but added that he wouldn't forgive him for the crimes
The 58-year-old killer admitted having sex with four of the five women but pleaded not guilty to murdering them.
He was convicted after a trial in 2008 but has always protested his innocence.
The naked bodies of Miss Nicol, Gemma Adams, Anneli Alderton, Paula Clennell and Annette Nicholls, were found around Ipswich over a 10-day period in December 2006.
Wright's father said: "The Steve I know... he'd go to cricket at the weekend, and he'd come with me and look after the other two dogs we had then, he'd go down the road to the pub...he wouldn't say 'boo' to a goose."
Urging him to admit the killings, he added: "Well it's the only thing he can do, I mean he's a man... but he doesn't do it does he?
"It's the only thing he could do to excuse himself is to stand up and admit it.
"I wouldn't forgive him, you can't forgive him - their lives were taken away, you don't forgive anybody for that anyway."
Mr Wright said if he saw his son again he would ask him for the truth.
He said: "Well it would answer a few questions, wouldn't it? I would go. I don't even know where he is.
"I would ask him to tell me all about it. 'Why, why are you here, Steve?'
"And knowing him, he'd probably say, 'well, I don't know,' he would, and that would be his answer.
"And I'd say well you've murdered people and he'd sit back and say: 'Have I? I can't remember'."