Ed Sheeran bought pig statue of himself at auction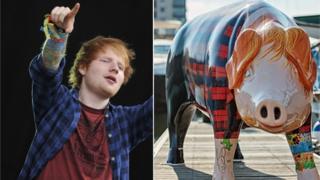 A pig-shaped statue of Ed Sheeran was bought by the singer himself, it has emerged.
The porcine tribute - dubbed Ed Sheer-ham - fetched £6,200 at a charity auction last week.
Some suspected the Thinking Out Loud singer, who described the design as "awesome" before it went under the hammer, was the winning bidder.
Staff at St Elizabeth Hospice, in Ipswich, confirmed an "excited" Sheeran had porked out the cash.
Rachel Backshall, from the hospice, said it was "a question everyone has been asking" since the auction.
"Did Ed buy his pig?" she said.
"We were wondering if he would want to buy it, but then he said he would sign the pig for the winner - he was very good at keeping everyone guessing.
"Ed has said that he is really excited about winning the pig and helping the hospice and that it will have pride of place."
The sculpture was one of 39 which formed the Pigs Gone Wild art trail in Ipswich.
About 300 people attended the auction at Trinity Park in Ipswich last week, which raised £152,550 for the hospice.
A pig's gallery