Ed Sheeran pig statue sells for £6,200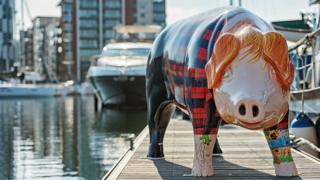 A pig-shaped statue of singer Ed Sheeran has sold for £6,200 at auction.
The porcine tribute to the star, dubbed Ed Sheer-Ham, was among 39 sculptures which had formed part of an art trail in Ipswich up for sale.
But the biggest hit of the night was a ceramic-inspired design, Ipswich Blue, which fetched the highest bid of £6,500.
In total, the auction, at Trinity Park in Ipswich, raised £152,550 for the town's St Elizabeth Hospice.
About 300 people attended the event, with others bidding online.
Follow the auction as it happened here
Sheeran, who backed the charity project, said the design was "awesome" and he hoped the model would be a "huge hit".
Other statues which had formed part of the Pigs Gone Wild trail included a tribute to the late David Bowie, which sold for £2,600.