Network Rail fined £4m over level crossing death of actress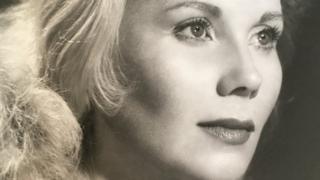 Network Rail has been fined £4m over the death of a former film actress at a level crossing.
Brenda McFarland, known as Olive, was killed in August 2011 when she was hit by a train at the Gipsy Lane crossing in Needham Market, Suffolk.
The 82-year-old appeared alongside Sean Connery in The Frightened City in 1961, and in The Sweeney and BBC dramas.
The rail firm was sentenced at Ipswich Crown Court having admitted breaches in health and safety regulations.
Read more updates on this and other stories from Suffolk
Her nephew John Black read out a statement in court for his mother Dory Black, Ms McFarland's sister, and said her death was a "crime against humanity".
Ms McFarland was staying in a care home after a fall, but was making the daily trip to feed the chickens at her Creeting St Mary farm when she was killed.
Judge Martyn Levett said the fine would have been £6m but for Network Rail pleading at the first opportunity.
He said pedestrians had a five-second visual warning of a Norwich-bound train approaching.
However, crossing the railway line could take vulnerable users and children about double that time.
Network Rail - which owns and manages the crossing - said individual mistakes had been made but the firm had not ignored warnings or been guilty of systemic failings.
The rail firm's counsel Prashant Popat said just before the tragedy, the crossing had been judged high-risk.
A temporary speed limit had been suggested - first 80mph, then 55mph - to improve safety, but nothing was done because a senior manager felt he needed to study the idea, once he returned from leave.
The judge said the decision should have been made there and then, adding a limit had been imposed immediately after the death.
In 2012 The Rail Accident Investigation Branch (RAIB) found Network Rail could have done more to prevent her death.
The RAIB said the company had been warned about the crossing before Mrs McFarland's death as its alerts for approaching trains were "not sufficient".
Rail firm apology
Warning sirens were recommended for the crossing in 2006 and 2008, but they were not implemented.
The report said the "immediate cause of the accident was that the pedestrian continued to cross when she became aware of the approaching train".
The driver said he had seen someone on the crossing and sounded a warning horn.
The report said Ms McFarland moved into the train's path because she either did not see it, misjudged its speed or believed it was approaching her on the line she was already standing on.
Executive bonuses
In a statement after the hearing, Richard Schofield, Network Rail's route managing director, said the firm was "truly sorry" and had since improved safety with a speed restriction and by reducing the crossing distance.
He said after her death the executive directors turned down bonuses so the money could be used to fund safety improvements.
"Since 2010 we have closed over 1,000 crossings and we are spending £100m across the country improving level crossing safety," he said.
Ian Prosser, HM chief inspector of railways, said: "Network Rail's safety management fell below the standards required, putting members of the public using Gipsy Lane footpath crossing in unnecessary danger.
"We will always take action against companies or individuals if failings are found."
Network Rail said it was working on plans to replace the crossing with a footbridge.