Proposals for Broomhill Swimming Pool on show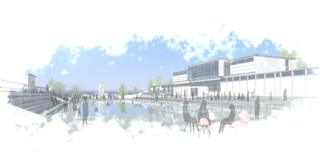 A cafe and fitness centre could be built alongside a refurbished Grade II-listed open-air swimming pool as part of a £5.5m revamp.
Broomhill Pool in Ipswich closed in 2002 but proposals for its new look are being presented to the public during the Heritage Open Days weekend.
Developers say a gym and cafe would help make the site "a commercially viable leisure destination".
An online survey has been launched asking for thoughts on the development.
Campaigners have been fighting for the site to be reopened since 2003, when Ipswich Borough Council announced the pool would remain closed.
The 50m pool and children's pool opened in 1938, but the council said it had become too expensive to run.
It has since pledged money towards the efforts to reopen Broomhill, and Fusion Lifestyle is now in charge of overseeing the project.
A spokeswoman for the team said: "Broomhill Pool will be completely restored to ensure the Grade II listed site is returned to its original function as an outdoor swimming pool, revealing its historic and architectural significance with a new permanent exhibition supported by volunteers."
Although the "indicative images" do not show the diving boards which became popular with the pool's users, the developers said they had not been forgotten.
"We know how important diving was as part of the "Broomhill experience" in the past, and we are still considering how we can incorporate some form of diving provision in the restored site as part of our project," the spokeswoman said.