Real pig 'goes wild' in art trail town Ipswich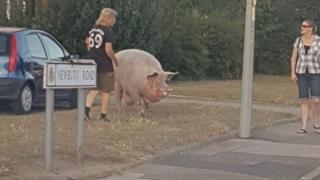 Life imitated art when a real pig went wild in a town currently hosting a trail of 40 pig sculptures.
Police were called after the large sow, named Pog, was spotted on the run around Newbury Road, a residential street in Ipswich, Suffolk.
The town is currently playing host to a Pigs Gone Wild arts trail.
Sgt Ali Livingstone said the real pig was caught just before officers arrived, adding that it must be from a big house because it was "huge".
Sharon Wootten said she was driving in the area on Thursday evening when she spotted the sow.
Read more on this story and other Suffolk news
"I stopped the car and took a photo, and then I got out and spoke to Pog's owner," she said.
"I believe Pog just broke out and fancied an evening stroll. She's quite big - almost waist height on me, about two and a half feet.
"She was very happy, she wasn't going home any time soon. But she was under control, the owner was very very good."
The Pigs Gone Wild trail features larger-than-life pig sculptures designed by artists from East Anglia and beyond, plus 30 junior sculptures decorated by schools and community groups and scattered around the town.
Pog is thought to be the same pig who featured in an estate agents' listing for a property in Ipswich in 2014.