Work of Ipswich bus enthusiast Jim Long left to transport museum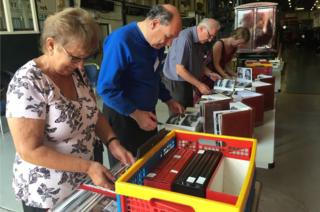 A transport museum has been bequeathed a collection of bus memorabilia dating back nearly 80 years.
It was the wish of Ipswich hobbyist Jim Long, who died suddenly in June, that his lifetime's work be handed over.
Family friend Viv Carter said it was a "valuable" collection with a massive amount of assembled information.
Ipswich Transport Museum described it was "one of the most comprehensive records there is" of Eastern Counties buses.
Mr Long, 72, became interested in transport as a young boy and his ambition was to own a photograph of every single bus Eastern Counties owned since it began in 1931.
Thousands of photographs, fleet lists and other memorabilia, each meticulously catalogued in a spare bedroom at his home at Greenfinch Avenue, were presented to the museum by his long-term partner, Evie Clarke.
Further deliveries are expected over the coming weeks and months.
Mr Long was among the volunteers who had a hand in the early days of the museum, launched in 1965.
He was often consulted and his knowledge of each bus was renowned.
Mr Carter said: "It's literally a lifetime's work, such a valuable collection to the museum and the majority of it done before computers came about."
Mark Smith, museum chairman, said: "This is one of the most comprehensive records that there is of Eastern Counties buses. It will help us restore old vehicles that we've already got in the collection."
He said it was a huge privilege to receive the collection as it helped with what he described as "industrial archaeology" of restoring vehicles according to the pictures amassed.