Rufus the runaway Ipswich skunk reunited with owner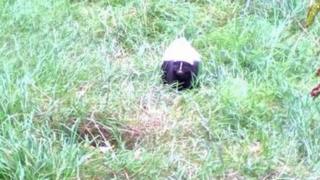 A runaway pet skunk found by wildlife rangers at an Ipswich park has been reunited with its owner.
The three-year-old skunk, named Rufus, had disappeared from its home in Whitworth Close.
Ipswich Borough Council had received a number of calls from members of the public who had spotted the creature in Stonelodge Park off Hawthorn Drive.
Vets were able to scan its microchip to reunite it with its owner.
'Not particularly tame'
Wildlife and education officer Joe Underwood said when they first received the reports, they were "sceptical".
"We've had eagle owls and exotic snakes but this one is completely different," he said.
"The first thing you think is, is it a badger maybe, but we went over to have a look and there we go, there it was hiding in Stonelodge Park."
Mr Underwood said the gland which produces the renowned skunk's spray had been removed.
He added: "Yes he's a pet, but he's not my pet, and he's not particularly tame.
"When his owner was at the vet, he was quite happy, but he wasn't so happy with me and my friend Dave earlier."