Experts blow up WW2 grenade on Gunton Cliff beach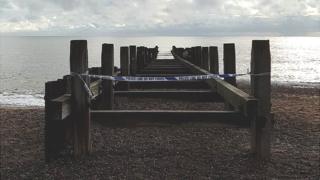 A World War II hand grenade has been destroyed in a controlled explosion, police have said.
A bomb disposal team from RAF Wittering blew up the device after it was discovered on the beach at Gunton Cliff, Lowestoft, Suffolk.
The beach has been re-opened after it was sealed off when the explosive was unearthed by a metal detectorist, at about 05:30 BST.
A police spokesman said experts carried out the explosion "at the scene".
"Ordnance being washed up on the beach is not unheard of," he said.
A spokesman from RAF Wittering, in Cambridgeshire, said the device was a Mills grenade, "commonly known as a pineapple bomb".
No other explosives were believed to have been found at the site.
The explosion was carried out just after 11:00 BST and the squad left just before midday.