Peter and Sylvia Stuart murder inquiry: Man charged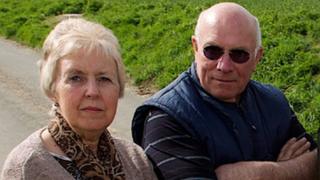 A man has been charged with murdering a couple following his extradition from Luxembourg.
Ali Qazimaj was brought to the UK to face charges over the deaths of Peter Stuart, 75, and his wife Sylvia, 69.
Mr Stuart was found with multiple knife wounds in woodland near his home in Weybread, Suffolk, on 3 June. Mrs Stuart's body has not been found.
Mr Qazimaj did not attend a hearing at Ipswich Magistrates Court on Friday because an interpreter was not present.
The 42-year old, of Tilbury, Essex, was detained on a European Arrest Warrant in Luxembourg on June 16.
More news on Suffolk Local Live
He was collected by police officers from the Suffolk and Norfolk joint major investigations team and brought back to the UK on Thursday.
The hearing proceeded in his absence when court staff were unable to summon an Albanian interpreter.
The court heard Mr Qazimaj had asked to be addressed as Vital Dapi.
Paul Scothern, of the CPS complex case work unit, said: "Qazimaj, or as he wishes to be known, Mr Dapi, faces two counts of murder and the matter clearly has to be transferred to the crown court."
Stephen Harris, defending, said the lack of an interpreter had caused concern for his client.
Mr Qazimaj later appeared before Ipswich Crown Court.
Asked by Judge David Goodin if he was Ali Qazimaj, he replied through an Albanian translator: "No, I am Vital Dapi."
He said he was born Elba Sam in Albania.
Stephen Rose, defending, said his client had protested that he was not the man he was accused of being.
He was remanded in custody and is due to appear before the same court on 19 August.
The Stuarts were last seen alive at Goodies Farm Shop in Pulham Market, Norfolk, on 29 May.
They were described by friends as keen line dancers who had a "zest for life".