Vincent Barker death: Optometrist Honey Rose 'did her best'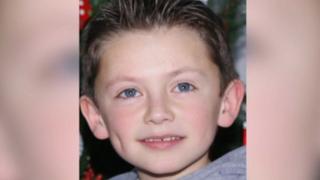 An optometrist accused of failing to spot an eye condition in a boy who later died has told a court she is "sure" she conducted a proper examination.
Vincent Barker, eight, known as Vinnie, died in July 2012 after fluid built up in his brain.
Honey Rose, who five months earlier performed a routine eye test, denies gross negligence manslaughter.
She told Ipswich Crown Court: "I did my best."
The prosecution previously told the court the conduct of eye specialist Ms Rose, who lives in Newham, East London, was so far below the expected standard it was "criminal".
Jonathan Rees QC said the alleged failure of Ms Rose to detect Vinnie's swollen optic discs during the examination, and refer him on for further investigation, was "at the heart of the prosecution case".
A build-up of fluid in his brain increased pressure in Vinnie's skull and ultimately led to his death, the court heard.
'I didn't miss anything'
Ms Rose, 35, who was working as a locum at Boots in Ipswich at the time, told the jury that checking Vinnie's eyes with an opthalmoscope was tricky because he closed his eyes to the light and was looking away.
She relied on retinal images, but said she believed she was given the wrong ones to study.
Mr Rees said records for other patients showed they had been asked about problems with things like flashing lights and double vision, but nothing had been noted for Vinnie.
"If everything is normal, I don't have to record it," she told the jury.
"It's up to me. It's the optometrist's decision.
"I did all the tests I had to do. I didn't miss anything."
Prof Bruce Evans, an expert in optometry, told the court it was "slightly unfair for a practitioner to be criticised for not recording findings in the same way".
The trial continues.