Cancer Research 'marshmallow hope fields' on Suffolk farm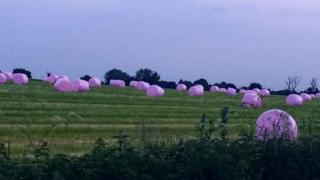 Bales resembling giant "marshmallows" are being created at a Suffolk farm to raise money for Cancer Research UK.
Katie Mitcham-Henry has covered the bales in protective pink wrap at Heath Farm, near Bury St Edmunds. From a distance they resemble fluffy sweets.
She has asked people to donate in the name of a loved one affected by cancer.
Each "marshmallow" will be named and the contents fed to pregnant ewes. Their lambs will be named after the bale their mother was fed.
Mrs Mitcham-Henry, who co-owns the farm in Hessett, lost her mother to cancer in 1988, when she was 11.
'Field of Hope'
"She had breast cancer but died from secondary lung cancer. Ten years later, exactly the same thing happened to my aunt," she said.
Mrs Mitcham-Henry is covering bales with limited edition pink shrink-wrap produced by companies who also support the cancer charity.
Her JustGiving page says she is "growing a field of marshmallows for Cancer Research UK because we want to grow a Field of Hope".
"I can't run for toffee or do a triathlon, and I can't climb Mount Kilimanjaro, but what I can do is build a farm and look after animals," she said.
She hopes to have about 100 "marshmallows", all bearing the names of people submitted by donors.
A Cancer Research UK banner is expected to arrive later this week.
Female lambs, which she keeps for breeding purposes, will be tagged and named after the haylage (winter feed) their mothers ate while pregnant.
"I want people to look at the fields and wonder why the marshmallows bear the names of lost souls.
"But mainly I want these to be fields full of love and hope," Mrs Mitcham-Henry added.