Tunisia beach attacks survivor says terrorists cannot win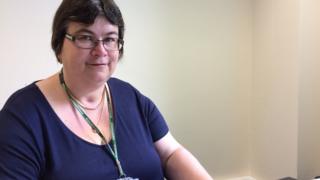 A survivor of the Tunisia beach massacre whose husband died in the attack said she will go abroad again in order to defy the terrorists behind it.
Allison Heathcote was celebrating her 30th wedding anniversary with husband Philip when the mass shooting broke out a year ago. She was shot five times.
Mr Heathcote was one of 38 killed in the shooting in the resort of Sousse.
Mrs Heathcote, of Felixstowe in Suffolk, said she "can't let [the terrorists] stop me doing things".
The attack - claimed by the so-called Islamic State - was the greatest loss of British life in a terror attack since the London bombings in July 2005.
Speaking on the first anniversary of the massacre, Mrs Heathcote said she is trying "not to think of it too much".
"I am going abroad this year with my son which is quite a big deal but I feel I need to do that otherwise the terrorists win - I cannot let them win."
Mrs Heathcote was among four seriously injured Britons flown back to the UK where she was put in an induced coma.
She said her arm had a slight permanent disability but she was "back to being as well as I am going to be".
"I am back full time at work. It is good to get back to the same old routine."
But she added: "It can never be normal again. I still miss Phil a great deal but you have to try and get on as best you can.
"I am trying to do the things we both loved doing before rather than trying to hide myself away pretending nothing had happened."
Mr Heathcote was a member of Felixstowe Corinthians Cricket Club, where Mrs Heathcote is the secretary.
A memorial match in Mr Heathcote's honour will be held next month.
In March, it was announced that inquests into the deaths of the 30 Britons killed would be pushed back to next year.
The inquests were due to begin in November but judge and coroner Nicholas Loraine-Smith said there was "an enormous amount of work to be done".