Missing Sylvia Stuart: Searches widened in Weybread case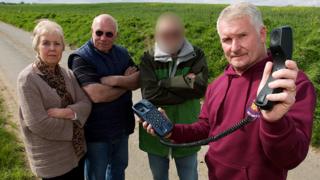 Police searching for the missing woman Sylvia Stuart have extended their searches to "potential stopping places" between her home and Essex.
Officers have been working with national advisors in piecing together information about the "barbaric" act which saw her husband stabbed to death.
The couple, from Weybread, in Suffolk were last seen together on 29 May.
Ali Qazimaj, 42, who lived in Tilbury, but is thought to be in Europe, is wanted in connection with the case.
Read this and more stories from Suffolk
Suffolk Police have said it is "less and less likely" that 69-year-old Mrs Stuart is still alive. They are broadening the search after conducting ground and aerial searches for her in their village.
The body of Peter Stuart, 75, was found in woodland near their home on 3 June, the day they were reported missing.
Police "strongly believe" Mr Qazimaj, who uses an alias of Marco Costa, holds the key to finding Mrs Stuart.
His car was found at Dover and police believe he boarded a ferry unaccompanied to Calais.
Det Ch Supt Simon Parkes said: "We have been working with national advisers in terms of looking for Sylvia.
"It's very difficult to draw conclusions to an act as barbaric as the one we've been faced with."
The Stuarts spent Saturday 28 May with family, and were captured on CCTV the following day at a Norfolk farm shop.
The couple's son-in-law, Steve Paxman, 61, of Leicester, was arrested in connection with the inquiry and later released on bail.