Pig statue tribute to Ed Sheeran unveiled for Ipswich's Pigs Gone Wild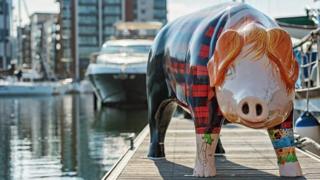 A pig-shaped statue of Ed Sheeran, described as "awesome" by the singer himself, has been unveiled as part of an art trail in Ipswich.
"Ed Sheer Ham", complete with tattoos and red check shirt, was revealed at a site on the town's waterfront.
The songwriter, who backed the charity project, said he hoped the model would be a "huge hit".
The tribute is one of 40 sculptures to be scattered around the town for a Pigs Gone Wild trail this summer.
The pig sculpture was designed and painted by Norfolk artist Martin J Wall, and was commissioned by the county council as one of the official partners in the event.
Read more on this and other stories from Suffolk
The 25-year-old singer honed his skills in Ipswich, having grown up in nearby Framlingham, before going on to be a global star.
He said: "I'm really excited to have a pig sculpture made in my honour.
"I hope Ed Sheer-Ham will be a huge hit on the Pigs Gone Wild trail in Ipswich this summer. The artist, Martin J Wall, has done a great job - I think he looks awesome."
Art trails have become popular over recent years, with a collection of gorillas appearing in Norwich, and 81 models of Gromit installed in Bristol.
It is hoped the auction of the 40 pigs at the end of the project will raise more than £100,000 and Ipswich's St Elizabeth Hospice, will benefit from money raised.
Councillor Christopher Hudson, who lives in Sheeran's home town of Framlingham, said: "Ed and his family are 100% behind this as he does a lot of fundraising work for local hospices."
Pigs were chosen as the subject to celebrate Suffolk's rich agricultural heritage and association with pig production in the county.