Ipswich Town sues police over 'illegal charging' for match-day policing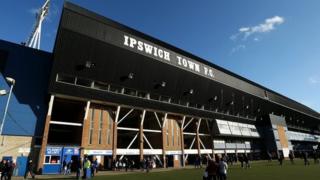 Ipswich Town is suing Suffolk Police for more than £200,000, claiming it was "unlawfully" charged for policing on match days between 2008 and 2013.
The club claims the force should not have charged for keeping order in the streets around Portman Road.
Nick De Marco, for the club, told the High Court it was paying for "ordinary policing on the public highway".
Suffolk Constabulary claims the football club "exercises its dominion" over the closed road on match days.
Dijen Basu QC, for Suffolk Constabulary, said: "The policing of the closed roads is plainly for the benefit of the club and those attending its matches upon payment, rather than for the general public at large."
The case comes after Leeds United successfully sued West Yorkshire Police for match-day policing costs.
A judge ruled that charges could not be levied for policing public land on match days, but only for providing services on land under the club's control.
The disputed roads in Ipswich include Portman Road and Sir Alf Ramsey Way, the court heard.
"This is unlawful as the police may not charge for discharging their normal policing duties," Mr De Marco said.
Mr Basu QC told the court matches at Portman Road, were "very peaceful indeed", with just two arrests in the last season.
"That is a key distinction between the present case and that of Leeds United, whose fans have a very bad reputation for disorder," said Mr Basu.
He said Ipswich Town earned £6m in gate receipts in the financial year ending 30 June 2015, while Suffolk Police had a budget of £150m to the police the entire county.
"No charge has been made for policing other than in the stadium and on the closed roads," he added, describing the two areas as "inextricably linked".
Suffolk Constabulary has made a counterclaim against the club for more than £96,000 in unpaid invoices for policing costs.
The hearing continues.