Prince William interrupts primary school sports day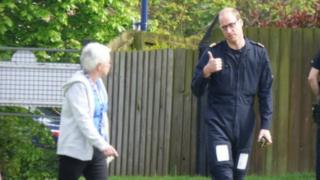 A primary school sports day was interrupted when an air ambulance landed on the playing field and the future king stepped out.
Prince William, a co-pilot with the East Anglian Air Ambulance, arrived at Kingsfleet Primary School in Felixstowe on Thursday afternoon.
The helicopter was called to assist a woman nearby who had hurt her leg.
Her injury was not life-threatening and she was taken to Addenbrooke's Hospital in Cambridge.
Deputy headteacher Rebecca McCarthy said: "[Prince William's] co-pilot and the other medics on board got off and then someone spotted him sitting in the front of the helicopter.
"There was... excitement, particularly from parents, but the children were very excited to think that we had the future king there on our playing field."