Little tern seabird models put on beaches to encourage breeding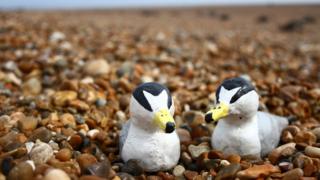 Hand-painted models are being used to attract rare seabirds to beaches and encourage them to breed.
Little terns travel from West Africa every year to nest, but their numbers have been declining as they struggle to find safe beaches, the RSPB said.
Plaster of Paris models have been used to attract little terns to specially-prepared nesting areas in Suffolk.
A trial involving the fake birds last year resulted in their most successful breeding season, experts said.
The models are placed in the same position that adult couples would adopt to breed, in order to increase the chances of attracting the real birds.
Other measures, such as electric fencing and dedicated wardens, have also been put in place in Kessingland, Benacre and Shingle Street.
Little terns, a chattering seabird with a distinctive black-tipped yellow bill, are an "amber list" species, according to the RSCPA.
In the last two decades, little tern numbers have plummeted by 88% on the Suffolk coast due to the disappearance of their traditional coastal sites.
"The beaches that little terns love are the very same beaches that local residents and holiday makers love too," said Emily Irving-Witt, bird warden for the county.
"We are hoping that the birds choose to nest at the sites we have placed our decoy birds which will provide them with safety from predators and space from other beach users to raise their young in peace,"
Last year, she said, "Benacre became the UK's largest little tern colony in the UK, and saw a fantastic 180 fledglings starting their long migration back to West Africa at the end of last August".
The project has been funded by EU Life, which supports environmental and nature conservation projects throughout Europe.