Payouts for former Stowmarket pupils claiming abuse totals £835,000 so far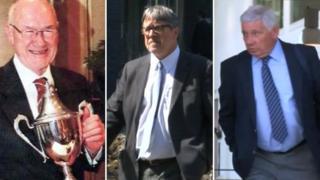 Former Suffolk school pupils who claim they were abused by their teachers have received more than £800,000 in payouts.
The county council has compensated 49 claimants of the former Oakwood School in Stowmarket for sums up to £50,000, reports the East Anglian Daily Times.
Last year, the former head teacher of the state-run boarding school, Eric de Smith, was sentenced to seven years for sexually abusing young boys.
More claims are yet to be dealt with, which date back to the 1970s and 1980s.
Two other ex-teachers at the Oakwood School, which closed in the year 2000, were also sentenced for child cruelty.
Michael Watts from Southampton, and Gerald West, from Gislingham in Suffolk, each admitted two of the child cruelty charges against them last year at Ipswich Crown Court.
Read this and more stories from Suffolk
Cambridge-based solicitors Andrew Grove and Co have dealt with some of the claims against the council, and said the precise figure so far paid out by the council stood at £835,000.
Out of a total of 114 claims 49 have been settled for amounts ranging between £10,000 and £50,000.
Andrew Grove, a solicitor acting for the claimants, said: "This is a good start towards a final resolution of the Oakwood abuses. I hope that we can move forward now and settle more claims by negotiation or litigation."
A spokesman for Suffolk County Council said he was unable to confirm the figure paid out by the organisation, but said their legal representatives had been working with a group of individuals and their solicitors.
He said: "As the discussions were continuing, we are unable to go into specific detail."
Oakwood School in Stowmarket, closed in 2000. It is now a pupil referral unity on Chilton Way in Stowmarket.