Suffolk fire service cuts revised leaving a £300,000 hole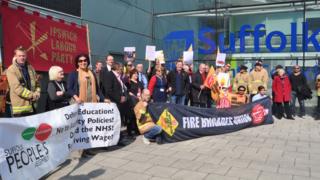 A review of proposed cuts to Suffolk's fire service has reduced the size of savings by £300,000. but it leaves a £300,000 savings shortfall which will have to be found later.
The service had been facing £1.3m cuts from the budget of £22.2m but that saving has been reduced to £1m.
It would mean 16 full-time firefighter posts would be lost rather than 20.
The changes will be considered by Suffolk County Council's cabinet on 17 May.
Among the proposals, recommended in response to a review of the Suffolk Fire & Rescue Authority Integrated Risk Management Plan, Sudbury would keep its second fire engine and Wrentham's fire station will remain open, but with a rapid response vehicle replacing its engine.
A county council spokesman said the £300,000 shortfall in fire service cuts would now have to be found in time for the 2017-18 budget.
.
Proposals from 2015 included getting rid of Sudbury's second engine and closing Wrentham.
'Disproportionate impact'
Plans to cut up to 60 retained fire fighter posts have been reduced to 21 posts, but Ipswich East, Ipswich Princes Street, Lowestoft South and Bury St Edmunds will still each lose one fire engine currently crewed by full-time fire fighters.
Mark Hardingham, chief fire officer, said: "What's important is that we retain the trust and confidence of the public.
"The adjustment to the proposals reflects my advice and questions and concerns that have come up through public consultation."
Mr Hardingham said he was confident there would be no compulsory redundancies, but cuts in jobs would be through "natural wastage".
Roy Humphreys, Suffolk secretary of the Fire Brigades Union, said: "Firefighters will be disappointed the proposals continue to include the axing of jobs and fire engines.
"Any further cuts will have a disproportionate impact on our ability to keep the county safe."
The cuts form part of the Conservative-run council's agreement to find £34.4m savings in its overall 2016-17 budget and a further provisional £38.5m savings in 2017-18.