East Bergholt: Conservative councillor resigns in homes row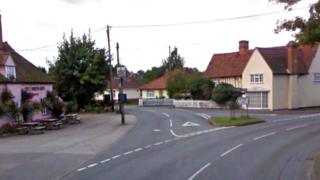 A councillor has quit the Conservative party in a row over approval for new homes in a Suffolk village.
John Hinton, a councillor in Babergh for 14 years, claimed permission for 144 homes in East Bergholt was "rushed through" simply to win government cash.
But Simon Barratt, deputy leader of Babergh District Council, rejected the accusation and said the area needed more houses.
Mr Hinton said: "I felt my voice was not being heard so had to resign."
He said a large development would put pressure on schools, doctors and local roads.
'Houses are needed'
"The 24 affordable homes in the scheme should also be closer to work to ease travel," he said.
"The council just wants to secure the annual £1,000 government bonus for the next six years to bolster finances."
But Mr Barratt said: "There is often tension between communities and the need to deliver homes.
"Most communities will say 'houses are needed but not here because we are very special'.
"If every village says that where are we supposed to put the homes?"