Police in Suffolk start destroying UK's largest illegal weapons haul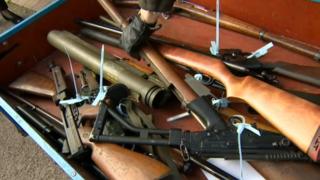 Police have started to destroy the largest stash of illegal weapons ever found in the UK.
The haul of 463 firearms was found at the Suffolk home of Wyverstone parish council chairman James Arnold in 2014.
Arnold, 49, was charged with possessing prohibited weapons but died from cancer before the case went to court.
The destruction is expected to take several days at Suffolk Police headquarters in Martlesham.
More on this story and others from Suffolk
The weapons were found when officers were called to a complaint of domestic assault at his home in April 2014.
Arnold was licensed to have 17 firearms but they found many more and decided to conduct a major search of the premises.
Officers discovered a secret room, hidden behind a false wall, which contained a huge arsenal of weapons and explosives, including 177 rifles, 136 handguns, 88 shotguns, 38 machine guns, an anti-tank missile and 200,000 rounds of live ammunition.
Police have previously said that had the weapons fallen into the wrong hands, there would have been enough to arm nine coach-loads of terrorists.
Det Supt Steve Mattin said: "I think this brings it to an end, it's the conclusion of a chapter.
"It's very rewarding for the team to know that we have taken a significant number of firearms out of the community that were unlawfully held."
Several museums were interested in retaining some of the weapons but DS Mattin said they made the decision to destroy the entire haul because they wanted to "ensure these weapons never fall into the wrong hands again."
Anthony Buckland supplied some of the firearms and was jailed for six years in February.
The 65-year-old, of Stoke Holy Cross, Norfolk, was found guilty of 11 counts of selling a prohibited weapon and nine counts of fraud.